HOME > Chemical Busness Filed > Product Information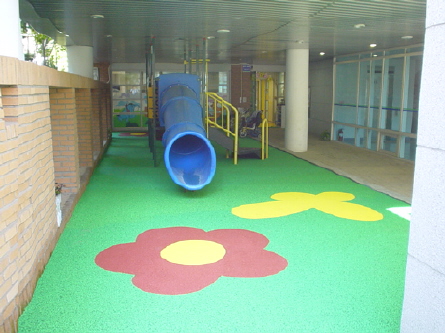 JCB-2500
Elastic pavement material /JCB-2500
- Walking trail, Sidewalk, Jogging track, Parking walkway, Children's playground, Plaza, Pedestrian overpass, Golf course footpath, Gold course cart road, Footpath in hospital and sanatorium, Footpath

- Multipurpose stadium /Athletic track

- Minimizes the feeling of fatigue of the feet by maximizing the feeling of walking with the adequate elasticity.
- Excellent durability, semi-permanent, easy to repair partially in case of partial damage.
- Permeable and drain function prevents the water from being collected despite rain, which makes maintain non-slip surface.
- There is no surface discoloration you can create the color and pattern suiting the intended use.
- You can construct in any place by the site-placing method.
- You can use the product for the versatile purposes by the adjustment of elastic force according to the intended use.
- You can make the pleasant children's playground without propagation of germs.
- Eco-friendly without heavy metal materials.


List